Posts Tagged 'American University'
Testimonials
"The workshop helped me to feel comfortable writing about myself and to work through my ideas to see what would work. It proved to be a crucial way for me to figure out what was most important to me and how to express that to the colleges I was applying to in the most articulate way. I highly recommend it as learning experience."
Sophia Toles
Martha's Vineyard Workshop Attendee
Class of 2012, Friends Academy
Class of 2016, Princeton University
"David Dent does a great job of helping students come up with revealing topics of their very own to consider for their college essays. He takes the time that is needed to transport your child beyond the routine parameters of his/her thinking to get there."
Lisa Boldt, Mother
Alden Boldt
Class of 2014, Berkshire School
Class of 2018, Union College
"When Cameron came to Write for the Future, he was at the bottom of his class in writing and literature. In about 26 sessions, he has gone from a bottom to an A. It is so exhilarating to see this work-in-action. David and Write for the Future have proven that what they say, they do. Write for the Future is a testament to itself. … Now my son can analyze things, he can write things; there are not words to express the things he has done since he has been working with Write for the Future...I would recommend Write for the Future offers to anyone. You are investing in your child's future,… and you will see the outcome of the product. Write for the Future has done wonders for my son. On Sundays, he always looks forward to his session…. I think it's amazing."
Lynn King,
Mother of Cameron King,
Class of 2016, Elisabeth Irwin High School
by Erich Perry Siebert
A burst of light blinded my eyes for a few seconds as I climbed out of the darkness of the dusty wooden attic. A soothing breeze brushed against my face as I stepped off the ladder after climbing 10 feet. It was a sunny day so clear that I could see castles in the distance just like the one where I was standing. Just as I absorbed the rich blue skies above large green hills, I turned to find two out of five people in my group removing their equipment.
As an eighth grader, I was the youngest in the delegation of People to People Student Ambassadors travelling through the United Kingdom. We scaled the ladder together for the opportunity to rappel down the wall. Two turned back. I kept going. Since then, I have drawn on the drive of that moment.
Three years later, I decided I had to exert the strength of that moment while facing the challenges of ADHD. The more I agonized through three months of therapy and four different types of medication, I realized that there was not a magic pill for me and my life completely turned around. After much thought, I decided to create an independent study on the impact of holistic well being including mental, physical, and nutritional health on the ADHD experience. I set out to actually live the study with a healthier lifestyle, involving a more plant based diet, high intensity workouts, and practiced meditation.
The creation of the plan took the level of dedication I carried through the tall, stone passage, carrying heavy nylon harnesses in my arms a few years ago. It was quite dark and the whole inside of the castle was built with solid brick. Two guiding lanterns replaced any natural light. I didn't feel nervous, but I was very excited.
Yet, it was a long climb that seemed like it would never end from the spiraling wooden staircase to the ladder. At the top, we stopped to prepare for the trip down the wall. When my name was called to descend, I felt startled. I cautiously made my way to the rope. The closer I came to the edge, I began to feel more and more nervous. I fastened my helmet and one of the instructors opened the trapdoor from the cherry wood ceiling. A ladder fell down to us.
As I finally reached the edge of the castle, I looked down and stared 90 feet down.I could feel my heartbeat throughout my whole body. Every sense in my body kept telling me to walk away, but I couldn't. I knew if i had made it this far, I was not quitting, no matter how terrifying it seemed.
I now see a finish line in my independent study that resembles my feeling of accomplishment at the bottom of the wall. The research involved interviewing a nutritionist, meditation coach, and a physical trainer as well as reading articles, books , and viewing documentaries. Through my new, carefully designed lifestyle, I started to notice a huge difference and a positive impact on my grades.
When I look at ADHD in the big picture, I don't see it as a barrier anymore, I see it as a strength. In May of 2014, Forbes' magazine published an article about the relationship between entrepreneurs and ADHD. The article described ADHD as "the entrepreneur's superpower." I learned that entrepreneurs with ADHD hold certain qualities that are necessary to succeed in the business world, including creativity, multitasking, risk taking, a heightened level of energy, and most importantly, resilience–the very factor that led to a successful journey down the ladder.
Erich Perry Siebert, a graduate of Frances W Parker High School, is a freshman at American University.
by Bijan Saboori
The plane lands at a small airport surrounded by dead yellow grass. Endless old beaten-down cars and trucks speed down the highway. I am in Istanbul. I have traveled halfway across the world for a family reunion on the Iranian side of my family. However, it is the lessons from the African-American side of my family that inspired me to embark on this adventure.
Rewind eight years. I hit the ramp hard. My bike follows, tumbling on top of me. I get up and immediately hear the laughs; they sting more than the aching in my shoulder. Everybody in the skate park saw me. I could not escape the jarring commentary on my fall.
"He can't ride at all."
"What a wannabe."
"Dude, this kid blows."
I was only nine and I loved BMX, but was just learning. A few months later at our family reunion for the other side of my family–the African American side–in Las Vegas, I told my cousin Harry that I was frustrated with the taunts and wanted to quit BMX. Harry interrupted me, "Son, I don't see any reason for you to quit doing something you enjoy. Bijan, just because you fall down a few times and embarrass yourself doesn't mean you just give up. That's life…You should never give up on something you love."
I did not quit. In fact, I practiced more. My own sense of adventure matured as I learned more about my much older cousin. I once saw him hop in and out of the cockpit of a P-51 Mustang like a kid on a jungle gym. He was 90 and could still pull it off. Harry started to tear up sitting in the cockpit, remembering how he and three other Tuskegee Airmen had won the USAF's first Weapons Meet of 1949 to determine the title of Top Gun. However, they were barred from receiving recognition because they were black. The Air Force officially recognized their victory 46 years later.
I was glad I followed his advice when I entered my first BMX competition at age 12. I started my run down the ramp with my first trick in mind, jumping with an X-up. I hit the ramp and while in the air I crossed my arms in the form of an "x" so that the handlebars would turn 180 degrees. I quickly reversed the process before landing so I wouldn't wipe out. After that first trick I felt more relaxed and performed simple tricks like 180s, fakies, bunny hops, manuals. I fell a few times, but nothing could replace the thrill, the rush and the challenge that I continue to experience in BMX.
I furthered my sense of adventure by taking up snowboarding the following winter as well as jumping into the world of theater, where I love working on the crew. I could not resist the adventure to travel halfway across the world to learn more about the other side of my family in Istanbul last summer. I rekindled connections with family members that I hadn't seen in years. Since then, I have become very close to Sue, my younger cousin who lives in England. She has been coping with people's negative reactions towards her bisexuality. We talk almost everyday on Facebook: "What they think doesn't matter. Being yourself is a key ingredient to life. Don't let anybody make you feel bad about who you really are and how you live your life." The words I type on the screen to Sue echo the wisdom passed on from Cousin Harry.
Helping Sue come to terms with her identity has led to my interest in psychology. I now want to obtain the academic foundation that will allow me to help others overcome issues related to identity, depression and stress. Along the way, I can also inspire others to embrace adventures that can lead them to new passions.
Bijan Saboori, a graduate of Cleveland's University School, is a freshman at American University.
by Griffin Harris
My identity and story are built on passions and habits. For example, something in my mind and body prevents me from falling asleep without reading the hard copy of the front page of The New York Times every night. If necessary, I will search through the trash to fetch the paper before going to bed. I have always found comfort in the crisp creases and familiar smell of its pages.  I realized the value of this habit as a sophomore in Mr. Greenside's history class when he asked, "Does anyone know more about John Edwards than what late night shows are currently joking about?" I immediately raised my hand, which was the only one in the air.  Mr. Greenside called on me and my understanding of the dynamics of Edwards came together in an informed response, understanding of the rise and fall of the man.  An epiphany followed this moment—the first time I saw the benefits of all those nights of reading the NYT.
I have always been a man of habits as an athlete and student. It started in fifth grade when I became more aware of my passion for history. We were studying the American Revolution and I was riveted by the social, political, religious, intellectual and economic levers that drove America to become independent.  I searched and found books and documentaries that fed my thirst for the topic and formed habits around researching and connecting the ideas behind conflict, immigration, independence and technology. I loved learning all I could through different investigative passions. My habits grew into a necessary companion to my love of history.
Passions cannot live without supporting habits. History reinforced this rule in my life. In Mr. Greenside's class, I learned the value of refined routines as the backbone for something that excited me—understanding world events. I have been equally passionate about hockey since I was six and grew to be the accomplished player I am today by developing habits – learning the physics of how a puck moves on ice, stick angles that produce the most accurate shot and feeling my teammates positioning without seeing them.
History and current events became the hockey of my academic life around eighth grade. Friday was my favorite day—current events. From Haiti's earthquake in 2010 to the Republican takeover of the House, I started getting to know the world as well as I knew the hockey rink by reading the paper every night.
I am reminded of the value of my addiction to the Times when I least expect it.  In my junior year I interviewed to be an intern for the International Rescue Committee, an NGO working to help political asylees and refugees rebuild their lives in America.  In explaining why I wanted the job, I drew on my awareness of global challenges and discussed immigration issues with confidence.  Just like I hit the ice with conviction, knowing I have taken my fingernail and scratched the edges of my skate blades to make sure they are sharp, I was able to tackle my interview with confidence, thanks to my nightly ritual with the Times.
As an intern, I was assigned to be a counselor for children of refugees from all over the world—Egypt, Tibet, India, Nepal, Cameroon, Guinea.  I served them well, knowing the deep roots and context of their fears.  Amr is 10 and worried about family members still in Egypt.  My job was to try to take his mind off the stories that may stir his fears, as well as to understand him and those fears.
I never know when a good habit will become the source of comfort to a 10-year-old like Amr, or lead to a great moment in class, or a strong job interview. I am certain that I will discover new passions and thus develop more habits. For now, I also know that my college roommate will learn not to throw out the trash with the day's New York Times.
 Griffin Harris, a graduate of Columbia Grammar and Preparatory School, is a freshman at American University.
By Marlena Rubenstein
At 12, I could barely run across the gym without gasping for breath. So if someone had predicted that I would one day run 3.1 miles continuously, I would have rolled my eyes and mumbled, "Yeah, right." That image was as plausible to me as the idea of playing "Ode to Joy" on the moon.
Back on Earth, lunch in a middle school cafeteria is hell by definition; my classmates made it worse. Carrying a plate filled with questionable-quality cafeteria food, I passed girls sitting at bare tables. As I silently scarfed down my food, I overheard nearby conversations: "Well, since I'm going to a party tomorrow, I'll look better if I don't eat anything today." I opened my mouth to correct the error of their thinking…and then immediately decided to stay quiet. I knew that these girls didn't want my input, and I wanted to avoid conflict.
I endured endless bullying throughout middle school because of my weight. The advice I always received was: "Don't let the bullies get to you," but in following that advice I disregarded the origin of the bullying – my size.
I cannot remember a single visit to our family pediatrician that did not include a lengthy, worried lecture about my weight; and though I agreed, I wanted someone to wave a magic wand and solve the problem for me.
In 10th grade I realized that my fairy godmother wasn't coming, and that my health deserved my full time attention. So I flew across the country to spend six weeks in the summer at a place that helps kids like me, and I returned home forever changed.
My typical day at Wellspring began at 7am with 'Mama' Christine, my favorite counselor, knocking on my door. By 7:30am, we were downstairs stretching on the grass for our pre-breakfast hike. In addition to the standard goal of reaching 10,000 steps per day, we went around the circle and gave a personal goal, which had to be S.M.A.R.T. – simple, measurable, attainable, realistic, and timely. Whether we were running laps or kickboxing, we kept moving until lights out at 10pm. Silently, we would each walk to our rooms, close the doors, and collapse on our beds.
The end-of-camp 5K was on the day before my 17th birthday; it was mandatory to complete, but campers set their own paces.
The gun boomed, and dozens of people shot down the track. I jogged slowly, my breathing in time with my footsteps. I saw those who had sprinted off slow down or stop entirely, gripping their sides and heaving. I steadily passed them all.
At the 1 mile mark, my nutritionist Mia stood at the water table where runners stalled their inevitable return to the monotony of jogging. "Looking great, Marlena! Wanna stop for some water?"
"No thanks, I'm not slowing down. See you at the finish line!" I called out over my shoulder, more determined than ever to make it to the end. I completed the 3.1 miles in 36 minutes and 50 seconds, and have never felt a stronger sense of accomplishment. This race put the sugar-free icing on the fat-free cake of my transformation at Wellspring.
I did not change my life because others said I should. I made my decision in my own way, and crossed the finish line as a new person. Every aspect of my life has changed because of the discovery of willpower that I never knew I had.
On the plane home, I worried that others wouldn't see the new Marlena. To my delight, I was wrong. Walking through the door, my little brother enveloped me in a hug and exclaimed with genuine surprise: "Marlena, I can wrap my hands around you now!"
He would soon realize that my change in size was only the tip of the iceberg.
Marlena Rubenstein, a 2014 graduate of The Hewitt School, will be a freshman at American University in the fall.
By Molly Klein
I felt like I was at a funeral, not in English, my favorite subject. My peers grew more solemn with each of Ms. Ginsburg's steps. I saw circles in red, angry ink bleeding on papers as she passed out the first graded essays of the semester in Honors Junior English. Laughing faces turned into frowns. It took forever for her to reach me, returning a 72 on a piece about Who's Afraid of Post Blackness? This grade threw me as hard as my horse Braun had thrown me out of my tack.
Self Resuscitation! After falling, I have learned to get back in the saddle with a determined spirit. I grew up riding horses at New Canaan Mounted Troop, which instilled this spirit in me. I couldn't just show up, get on a pony, ride and leave. New Canaan students must take care of the facility as well as the horses, and my training was steeped in the barn's motto: "It is never the fault of the horse, always the rider." That lesson was now with me in Honors Junior English: I can't blame the teacher for my 72.
Seeing The Lesson: It was an October day that felt like December at the Ridgefield Horse Show. Braun can be very sensitive to conditions in the ring, and I should have known that the wind and rain would rattle him. The course was full of jumps and sharp turns, which I forced Braun to do as if it were a perfectly calm, sunny day. Approaching the end of the course, he took off at full speed and leapt into the air, throwing me hard onto the ground. As I hobbled out of the ring, I saw my trainer's disappointed face. She muttered the Troop motto as I led Braun to the trailer. She was right; I failed as a rider. I had not adapted my riding style to the conditions confronting Braun.
My Rules: Rather than blaming others, I live by the rule that I am most responsible for my fate. If my teacher or my horse bestow a tough lesson, it is something that I must learn. For me, disappointment is a signal that I have to take responsibility and fix whatever is going wrong in my life. Blaming others won't help me to grow as a student, athlete or person. Some classmates spent the year complaining about Ms. Ginsburg's tough grading. Despite temptations to join them, I was drawn to Ms. Ginsburg's enthusiasm and knew I could be a better writer by spending my free periods with her. By the time we read The Awakening, in the spring, I was bringing home 90's in Honors English.
Thrown Again: On the first day of my Personal Finance class I waited patiently for another girl to walk into the room, but the sea of boys continued to flow in. Our teacher told us to select a partner for creating stock portfolios, and no one would partner with me. I was left alone. I thought back to my travels through Turkey when I saw women in Burkas. The oppression was so foreign to me at the time. Now, the oppression became real. I was being treated differently because of my gender, and I was motivated even more to excel in the class full of boys. When selecting class usernames, I chose "onlygirl". It was a proud moment when the stocks I had carefully chosen had boosted my portfolio into first place.
Final Reflection: Why was I consistently strong in Personal Finance, but slow starting in English? I started English with the confidence that I bring to the stables. Being an underdog from the beginning in Personal Finance gave me a bit of a head start in knowing I needed to gear up for the challenge. Underdog or not, I value high expectations that compel growth; so thanks Braun, and Ms. Ginsburg.
Molly Klein, a graduate of Darien High School in Darien, Connecticut, will be a freshman at Colgate in the fall.
by Ryan Shepard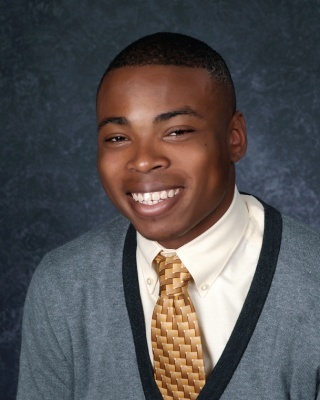 I remember when Saturday mornings were like poetry: the rainbow colored fruity pebbles sitting in my spoon, a fluffy teddy bear brilliantly named Teddy, the sounds of Ahmad Rashad previewing the day's NBA games, and the sounds of my brother trying to play basketball, indoors. Then there was the day's biggest gift–my own personal gentle giant whom I called Dad, author of the poem. His everlasting line was that incredibly wide grin he wore across his face. He seamlessly presented Saturday's poetry as smooth as the feel of his casket ten years ago. Today I am evolving with the memory of the poems along with the wide grin that travelled with him everywhere. Now they guide my definitions of comfort and confidence.
Seven years after I put his casket behind me, I picked up the pen, paper and microphone that were in front of me. My talents grew as wide as my father's grin, but on my own terms. The younger me wanted to be just like him–part of me still does. Yet I'm more artistic than he could have ever imagined. Last spring, I filled sheet after sheet of paper, exposing innermost secrets by way of poetry and music. In doing so, I came to expand my own grin. On the stage of a packed ballroom at Disney World, I performed my poem, "17 Dreams", which takes the reader into my visions of my future. With each line, I gauged the audience's reaction, opening myself to new vulnerabilities but also becoming more confident and comfortable with myself. My grin became a bit wider, almost like my dad's smile way back when.
Poetic memories of my father's Saturday grins carried me from North Plainfield Middle School lunch lines into ninth grade at Choate Rosemary Hall. I suddenly found myself amongst those born with golden spoons or even famous last names. I questioned my place among them. Nonetheless, I grew to see the value of my Saturday morning spoon even more, thanks partially to Colin Lord, a mentor and admissions director at Choate who once detected a little self-doubt in me. He said, "We wouldn't have brought you here if we didn't think that you could handle it."
My talents grew, but on my own terms. I became president of the Choate Afro-Latino Student Alliance and Slam Poetry clubs. I was also named Prefect, becoming a student mentor to freshmen. As a Choate elder, I now share stories of my experiences with others, such as my first track meet as a freshman. My legs pounded against the red pavement of the track during the first race. I was nearly fifty yards ahead of my only competitor, when it hit me: I had broken into a sprint too quickly. I was that young, naive freshman who thought he could sprint 400 meters. Meter by meter, I could feel the senior runner coming up behind me, ultimately beating me by a full 50 meters. As I neared the finish line, I heard the voices of both my parents: "It's not the end all, be all."
My dad's grin, smile, voice, presence and spirit are still powerful forces in my life. My reality opposes all the studies that suggest I am lucky to be a part of the 4% of boarding school students who are African-American and not the nearly one million blacks who are incarcerated. These figures are mere background chatter to me. My father taught me well; his influence has weakened and trumped those studies. My goal now, above anything else, is to continue to grow into my own person and solidify my own incredible grin.
Ryan Shepard, a recent Choate Rosemary Hall graduate, will be attending American University this fall.
By: Jakobi Jackson
Scene One: The Hallway of Trouble. "Hey you, I heard you were talking about me, bitch!" Mya yelled. She rushed straight to Susan and punched her in the nose. A large crowd encircled them as they scratched, kicked and punched each other. By the time security arrived ten minutes later, the hands of both girls were in each others' weaves. They were both sent to the holding room.
Scene Two: The Classroom of Success. "Oh, really then, why do you have slaves running away or committing suicide if slavery is so positive?" Frederick Douglas says to a Southern farmer. Actually, I say that to Ian, my classmate. I am Frederick Douglas and he is the farmer in a class debate in AP US History.
"Well, those slaves are ignorant and wild, which is another reason why slavery should stay, to straighten the slaves for their bad behavior," Ian, the Southern farmer counters.
"Alright alright that's enough Jakobi and Ian," says Mr. Barry, our teacher who played President Buchanan. "Good supporting ideas and interpretation. You guys had a really heated argument."
The bell rings and my classmates and I are going back into Scene One, the Hallway of Trouble. We may see a fight on the way. But in five minutes, we will be safe in AP Literature where we will discuss Death of a Salesman with the high level of engagement that characterized our staged debate on slavery.
My mind separates Stamford High into two schools or even two worlds: the Classroom of Success and the Hallway of Trouble. I am a full citizen of the Classroom of Success. As an African American male,  I am  a minority in this school. In all of my classes,  there are rarely more than two black students among the white and Asian majority in this school. Yet in the Hallways of trouble, I am part of the racial majority: 60 percent of the students at the school are black or Hispanic. I often feel like a foreigner in the halls and am careful not to bump into anyone or sport a facial expression that might incite someone to attack me.
There was a time when I wanted to be stereotyped as bad. In middle school and my first year in high school I always wanted to fit in the cool crew that made it to all the parties.  I even did a few things to win acceptance in that group: I wore sagging pants and disregarded my grades. I remember the moment when I truly decided that I belonged in the Classroom of Success rather than the Hallway of Trouble. I was a sophomore when I heard the cannon. "Boom." It touched the ground blowing up soldiers on the battlefield. "We Need More Ammo," the soldiers said in German as they ducked for cover.
I was a sophomore in a history class when we watched a documentary that explored both World War ll and the Cold War. It turned on a switch in my head that made me love history. I still can't turn it off. I want to become a history teacher or professor. My parents had been pushing me to engage in the Classrooms of Success since I placed into top classes. They pushed me to avoid the "crabs in the bucket," their description of the "cool" kids in the other school. However I was the one that made the decision to become a citizen of the Classroom of Success when I realized history was my passion.  Ultimately, the liveliness of the classroom drew me into that school–not my parents' demands.
There are a total of 2,000 students at Stamford High. In my junior year, I saw how I can still easily be mistaken for a student in the Hallway Of Trouble. I misplaced the room number of the yearbook club meeting on the first meeting date.
"Hi, excuse me," I say to a secretary in the main office
"Hi, what do you want?"  She responded with an annoyed look on her face.
"I am looking for the yearbook room, do you know the room number it would be in?"
She looks surprised. "Don't you have class? Why are you going to the yearbook room?"
I told her I had study hall, but she refused to check the list for the room number. I wandered the halls looking in rooms for the meeting. Fortunately, I found the group and avoided any trouble in the hallway.
   The Hallway of Trouble sometimes provides the entertainment for students in the Classroom of Success. I often arrive to class early and here my classmates talking about the fight or crazy behavior they witnessed in the hallway. "Did you see that?" or "That was crazy!" Another is, "This fight was intense!"
"Wow did you see her, oh my god she is crazy." They sometimes jokingly alter their voices in a dialect they hear in the hallway and laugh outside of the view of any members of the Hallway of Trouble. In those moments, I realize our little school may be invisible to students of the Hallway of Trouble. Unfortunately, years later, those students may wish they knew there was a school like The Classroom of Success, which is so close yet so far away from their world.
Jakobi Jackson is a graduate of Stamford High School and is currently a sophomore at American University.
by Malcolm Thompson
I was once afraid of the dark and terrified of girls. Today I am a fearless defensive lineman, captain of the wrestling team and my best friend is a girl
Years ago, there were times when I would stay up all night watching T.V. or lie awake in my bed terrified of the wild monsters and robbers that my bizarre, little imagination created. I don't know how I overcame my intense fear of the dark. It happened in fifth grade around the time my phobia of girls took over.  I remember sitting speechlessly next to Martha as we car pooled to school in sixth grade.  By eighth grade, we were talking and she is now my best friend who knows many of my secrets.
It wasn't until I was 15 years old that I realized the importance of transformation and growth, and saw the confrontation of my fears as an asset. I started actively seeking information on my namesake, Malcolm X, and I began to see that my natural eagerness to grow and change was something I had in common with this great man.  Malcolm X was constantly growing and evolving on a much larger scale than I had ever faced. His passion for reading and gaining knowledge during his jail sentence led to his transformation into a recognized intellectual.
Overcoming fears was just the beginning of applying the lessons I've learned from Malcolm X. In my freshman year, I came onto the wrestling team in poor shape. I lacked the balance and the coordination necessary.  It was one the most frustrating periods of my life. I hated going to practice. I hated when my coaches and older teammates would try to help me.  Getting slammed to the mat countless times by seniors not only hurt physically, but also damaged  my mental state.  Nothing was worse than the match I was winning until a stupid mistake resulted in a loss.
My frustration boiled into a self-destructive rage that kept me from improving as a wrestler.  During that year, I read The Autobiography of Malcolm X. When Malcolm first arrived in prison, he too was overcome by anger.  I considered how Malcolm was able to channel his anger into his studies while in prison.  Using my own anger as motivation, I worked on getting in better shape, lifting weights and putting on more muscle during the off season.  Knowing that I was in better shape gave me confidence going into the next wrestling season.  At the beginning of my sophomore year, I knew that I could have a shot at wrestling varsity, which made me want to grow into a better wrestler. I ended up winning 14 varsity matches in that year.
I admired Malcolm's truly open mind and his ability to allow his ideas to constantly grow, especially during his travels to Africa and the Middle East.  I used this as my inspiration when I journeyed to Ghana for five weeks this past summer. When I first arrived, I struggled with adjusting to Ghanaian life, from people eating with their hands to bargaining with vendors.  Since my days as an infant, I have been taught that it was barbaric to eat food with your hands.  When I first put Fufu, mushy food made from mashed yams, in my fingers to eat, I felt so strange. Yet I pushed myself to embrace it.  If Malcolm X could travel to Mecca and completely change his view of the world, then I could at least learn to eat with my hands like a real Ghanaian.  By the end of my time in Ghana, I was saying hello to every person I passed in the streets, haggling with merchants at markets, and even doing a little bit of singing and dancing at church with my host family. My way of thinking did not change drastically in the way Malcolm's worldview changed with his trip abroad, but I still challenged myself.
Legendary hip-hop artist Tupac Shakur once said, "I want to grow. I want to be better. You Grow. We all grow. We're made to grow. You either evolve or you disappear." Being able to grow means being able to transform and improve your life. It may be something small like eradicating a childhood fear, or something larger like going from a convicted burglar to an inspirational human rights activist.  I hope I am able to continually embrace transformations that will push me to grow.
Malcolm Thompson, a 2012 graduate of The Horace Mann School, is a freshman at George Washington University.