Posts Tagged 'Fathers'
Testimonials
"The workshop helped me to feel comfortable writing about myself and to work through my ideas to see what would work. It proved to be a crucial way for me to figure out what was most important to me and how to express that to the colleges I was applying to in the most articulate way. I highly recommend it as learning experience."
Sophia Toles
Martha's Vineyard Workshop Attendee
Class of 2012, Friends Academy
Class of 2016, Princeton University
"David Dent does a great job of helping students come up with revealing topics of their very own to consider for their college essays. He takes the time that is needed to transport your child beyond the routine parameters of his/her thinking to get there."
Lisa Boldt, Mother
Alden Boldt
Class of 2014, Berkshire School
Class of 2018, Union College
"When Cameron came to Write for the Future, he was at the bottom of his class in writing and literature. In about 26 sessions, he has gone from a bottom to an A. It is so exhilarating to see this work-in-action. David and Write for the Future have proven that what they say, they do. Write for the Future is a testament to itself. … Now my son can analyze things, he can write things; there are not words to express the things he has done since he has been working with Write for the Future...I would recommend Write for the Future offers to anyone. You are investing in your child's future,… and you will see the outcome of the product. Write for the Future has done wonders for my son. On Sundays, he always looks forward to his session…. I think it's amazing."
Lynn King,
Mother of Cameron King,
Class of 2016, Elisabeth Irwin High School
by Sage Adams
Dad reads the New York Times like Mom reads the Bible, carefully and with conviction. He starts relaying the matters of the world to me, never bothering to water down his language even though I am just ten years old. It is a part of his morning and becomes part of mine. I frown when reading about something called the recession. The writer of the article isn't doing such a good job of being optimistic, something my parents always stress.
For years, Dad and I share a passion for politics, but sometimes differ on fashion. On a Thursday of my junior year, I wear shorts and a long t-shirt I tie-dyed myself. When I walk out the door that morning, he raises his eyebrows, mouth in a pinched line. After all, he works at Saks Fifth Avenue, dressing some of the men we see on CNN and MSNBC. I wave goodbye.
He must have forgiven me because we all sit down and watch an episode of Breaking Bad that night. Later, I wake up in my bed to Mom's scream. I rush to the bathroom. Dad is on the floor and Mom weeps. 4am. I try giving him mouth to mouth to bring him back. It isn't even hours, it's minutes ticking by, and all I can hear is the blood rushing through my veins past my ears into my brain. All I can see is that the same couldn't be said for my dad. I call the ambulance in a panic, for the first time ever sliding to the right of my iphone lock-screen where it reads emergency. I am not screaming but hysteria mounts and there is literally nothing I could do. Nothing we could do. This isn't going to get better.
After his death, I struggled to find the optimism that my parents championed. I felt like my life became like that recession. I was GM yet no one could bail me out. I spent the rest of my junior year in reflection.
I remember in 2008, when my dad's love of politics became something he only shared with me. Outside of the house he never voiced his political views. He would tell me about who came into the store that day, referencing articles we read, spinning stories about the policies they would be presenting whilst wearing the suit he picked out. My dad made politics fun for me, a father-daughter activity like riding a bike.
Dad was proud when I became president of the Black Girls Rock! book club three years ago. He read the books with the schedule I set for the girls. The club was reading Assata, a biography on the life of the infamous Assata Shakur. Dad joked that he found us eerily similar and that I should research vacation homes in Cuba. I rolled my eyes, telling him that she was stronger and smarter than I was. My dad didn't often cut me off. But on that day, he shook his head. "Don't say that."
For months after his death, I dreamed of hearing that voice sitting on the couch, with the sound of The Office in the background, with him eating pasta next to me. I wanted to tell him how my Morality and Ideology class reshaped my views on capitalism. I wanted him to see me pursue my interest in urban agriculture and off on my trips to the farm. He would never see me grow. Despite the loss, I persevered, joining a group called Growing Youth Organizers. I decided to be the change we had so desperately wanted to see in the world. Sage Adams, President, Urban farmer, Activist. My dad was someone who listened. So to honor him now, I took his advice and assumed the strength of Assata Shakur. In doing so, I embraced the roots he planted. When my father died, an activist was born.
Sage Adams, a graduate of Little Red School House and Elisabeth Irwin High School, is a freshman at Howard University.
by Ryan Shepard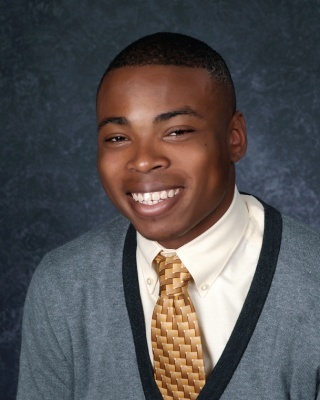 I remember when Saturday mornings were like poetry: the rainbow colored fruity pebbles sitting in my spoon, a fluffy teddy bear brilliantly named Teddy, the sounds of Ahmad Rashad previewing the day's NBA games, and the sounds of my brother trying to play basketball, indoors. Then there was the day's biggest gift–my own personal gentle giant whom I called Dad, author of the poem. His everlasting line was that incredibly wide grin he wore across his face. He seamlessly presented Saturday's poetry as smooth as the feel of his casket ten years ago. Today I am evolving with the memory of the poems along with the wide grin that travelled with him everywhere. Now they guide my definitions of comfort and confidence.
Seven years after I put his casket behind me, I picked up the pen, paper and microphone that were in front of me. My talents grew as wide as my father's grin, but on my own terms. The younger me wanted to be just like him–part of me still does. Yet I'm more artistic than he could have ever imagined. Last spring, I filled sheet after sheet of paper, exposing innermost secrets by way of poetry and music. In doing so, I came to expand my own grin. On the stage of a packed ballroom at Disney World, I performed my poem, "17 Dreams", which takes the reader into my visions of my future. With each line, I gauged the audience's reaction, opening myself to new vulnerabilities but also becoming more confident and comfortable with myself. My grin became a bit wider, almost like my dad's smile way back when.
Poetic memories of my father's Saturday grins carried me from North Plainfield Middle School lunch lines into ninth grade at Choate Rosemary Hall. I suddenly found myself amongst those born with golden spoons or even famous last names. I questioned my place among them. Nonetheless, I grew to see the value of my Saturday morning spoon even more, thanks partially to Colin Lord, a mentor and admissions director at Choate who once detected a little self-doubt in me. He said, "We wouldn't have brought you here if we didn't think that you could handle it."
My talents grew, but on my own terms. I became president of the Choate Afro-Latino Student Alliance and Slam Poetry clubs. I was also named Prefect, becoming a student mentor to freshmen. As a Choate elder, I now share stories of my experiences with others, such as my first track meet as a freshman. My legs pounded against the red pavement of the track during the first race. I was nearly fifty yards ahead of my only competitor, when it hit me: I had broken into a sprint too quickly. I was that young, naive freshman who thought he could sprint 400 meters. Meter by meter, I could feel the senior runner coming up behind me, ultimately beating me by a full 50 meters. As I neared the finish line, I heard the voices of both my parents: "It's not the end all, be all."
My dad's grin, smile, voice, presence and spirit are still powerful forces in my life. My reality opposes all the studies that suggest I am lucky to be a part of the 4% of boarding school students who are African-American and not the nearly one million blacks who are incarcerated. These figures are mere background chatter to me. My father taught me well; his influence has weakened and trumped those studies. My goal now, above anything else, is to continue to grow into my own person and solidify my own incredible grin.
Ryan Shepard, a recent Choate Rosemary Hall graduate, will be attending American University this fall.
by Allegra Neely-Wilson
A magical Christmas starts with a pair of socks. At 12, I see only one gift on Dad's dining room table. I unwrap it and find a pair of red and green socks. While trying them on, my right foot feels the scratch of a piece of paper. First secret code: 332. Dad has created a Christmas scavenger hunt. I travel the house, finding clues beneath pillows, under my bed and on page 332 of a book. A Harry Potter DVD is stuffed behind couch cushions, books hide in cabinets, and a soccer ball waits in the backyard. Dad and I spend the afternoon eating popcorn, watching movies, and drinking hot chocolate.
A year later, another hunt begins, reshaping my life. The day starts with a normal Eighth Grade morning. I wake up 10 minutes after my alarm, quickly dress and eat my bowl of oatmeal. A feeling grows in the back of my mind that something is wrong. At school, I am surrounded by friends and pretend everything is okay, though I can not shake that mysterious feeling of anxiety. I follow my usual route home. At my apartment, I am both eager and hesitant to enter, as I know something unexpected is behind those doors. I slowly build the courage to open the door and find Mom. Just by looking at her face I know my worst fear has come true. Dad has died of a heart attack. My life grows into a treasure hunt to capture Dad's sense of adventure and optimism on my own.
The summer after his death, I begin a five day canoeing trip on the Connecticut River. Like me, most of my fellow campers had never canoed. The sun set upon our arrival at the first campsite. We raced against the coming darkness, unpacking canoes and unloading our belongings and food. I was starved, exhausted, and happy as we set up tents and cooked. My adrenaline turned the night into a challenge and opportunity, which I attacked with a smile as if I was searching for something in Dad's backyard. Adventure!
Our ribs only saw ten minutes of fire. After the first bite, I relied on heavy sauce to cure my hunger rather than raw ribs. I fell asleep seconds after entering my sleeping bag but awakened by the rapid sounds of "pitter-patter" and a rush of water. We forgot to put the rain shield on the tents. Puddles grew. I jumped into action, quickly packing as much as I could to prevent things from getting even wetter. Shelter? I raced to the bathroom. Others followed. Huddled together near the stalls with our soaking wet clothes, supplies and sleeping bags, we cooked our eggs and ate them with un-toasted English muffins. Moments later, we loaded the canoes and continued down the river with the rain. The trip's rough beginning meant things would only get better. Optimism!
I visited Dad on weekends in Long Island. His itchy grass was a nice change from the cement of Manhattan, where I lived with Mom during the week. Dad was handy. Instead of buying me a soccer goal for my tenth birthday, my present was making one with him. He often oversaw the lighting for shows at small theaters. It's no wonder I never desired to audition for my school's production of Cabaret. Instead, I built props for the show and loved it.
I have tried hard not to lose Dad, which inspires my engagement of new interests like there is no tomorrow, from feeling the rush and sweat of the final minutes of a tied game to the most intense part of a Bach cello suite. My camera explores different views of the world and my hands mold ceramic gifts for friends. In doing it all, I find parts of Dad in who I am becoming, and create my own personal treasure hunt to continue discovering myself.
Allegra Neely-Wilson, a member of the Class of 2014 at the Brearley School, will be a freshman at Connecticut College in the fall.
by Imani Graham
I feel guilty not wanting to be the space aviator Daddy always wanted. In his stories, I was Commander Imani and my little brother was my lieutenant. He'd flush us down the toilet to our spaceship hidden under the house, and fly across the universe at warp speed to save planets from the Cookie Monster of the Vega System.
I remember the first time I asked him why he wanted me to be a space aviator. And with that crooked smile and oh-so-familiar pockmarked face, he said "So you can take me to the moon."
But I couldn't take him anywhere; the request was overwhelming. So you can take me to the moon. Contemplating the depth of his request required me to question what I wanted from myself.
It took some daddy-daughter time to ease my mind. Watching the Hubble 3-D Experience with him quelled all internal doubts and cosmic chaos. As we sat and moved closer to the Orion Nebula, I saw the epitome of natural beauty, stellar birth and the creation of solar systems, all in 3-D. I saw myself, small and mortal, swallowed in a dusty sea of stars light years long. Was this the warp speed Commander Imani had mastered? Our sun, our earth, my reality could have started like this: a speck in a blanket of dust.
Thanks to my father and the magic of Hubble, my underlying interest in space finally surfaced, and it consumed all. Everywhere I went, I saw stars, and I wanted to know everything I could about them. I took action; I wrote about Hubble's images in English, and I saw the secrets to understanding it all within the mind of my physics teacher.
And I began to realize just how much I didn't know. What else was there left to discover? What would I have to do to get to my nebula? Anything sidereal was something new and exciting. I studied constellations, identified nebulae and memorized half the Greek alphabet just to try and understand part of what dominated my thoughts. Through my love of the cosmos, I recognized my will to learn and a determination to work through the obstacles both within myself and in my environment.
Modeling myself towards Commander Imani, the space aviator, I took hold of this determination back on earth in high school. The summer of junior year I worked as hard as I could in my first official job at the Wave Hill Summer Collaborative Internship where I did both physical and mental labor. Four days a week, I worked on a public greenspace lifting logs and caring and learning about the local flora, and on the fifth day I utilized my newfound tenacity to get an A in a college course at Lehman College. I took a chance and joined an established soccer team. As the first new member to join in years I had to learn to interact accordingly and integrate myself. Taking the initiative became an everyday goal. Not only was I a captain of the school Dance Team where I had to motivate girls, who often felt they were above coming to practice, but I took action and emailed Neil Degrasse Tyson with my cosmic questions. My father's stories taught me the basics of space travel, but he also outlined lessons about relationships and attitudes that I have been executing all my life.
This cosmic awareness has served me well. While going to the moon and space aviation may not be for me, my newly discovered love for astrophysics grew out of my father's stories. He instilled the will to immerse myself in my interests and gave me the motivation to exert myself past my limits. It provided a mirror and a microscope that taught me about myself, how little I know, and how much I need to know and share the connections I've made as well as the lessons I've learned. A speck of dust on a fleck of stone, within a network of elements and dark matter full of wonder. Who knew dust could create such possibilities?
Imani Graham is a freshman at Dartmouth and a 2013 graduate of the High School of American Studies at Lehman College.
By Evan Mabry
I see my biological father leaving my apartment and my stepfather moving in on the same night. I don't really think my mom would allow the departure of one and arrival of the other in one night. Yet visually my mind can't nail down the moments when I was in between dads. It blurs into one night. As long as I can remember, there was one dad who was present enough to make the absence of the other notable. I am thankful that they both provide me with a powerful sense of right and wrong, which greatly influences the way I live today.
By seven, playing basketball with my biological dad was just a fond memory. My new dad loved hockey and soccer—two sports I spent years trying to love as well. Today, I've returned to basketball —something I owe to my biological father and perhaps one of the few things we still have in common, besides that everyone says we look alike.
Movement was the defining characteristic of my biological father's life for a long time after he left my mother. He moved non-stop from apartment to apartment throughout the city, as if he were a plane on radar. For weeks at a time, my father would be living in his friend's apartment or sleeping on someone's couch.  Comfort never found him. Stability evaded him as well. He was also still searching for financial well being. He came close to stability by eventually returning home to Long Beach, California to live with his parents.
My life with my stepfather and mother has also been one of movement, only with a totally different perspective. Our movement provided my motto for life: never get too comfortable since a new adventure always awaits.
I was 10 when we moved to Milan, a city rich with adventures for me from the new language to learn and a sport to love. Soccer became my branch to new friends. I did not need language proficiency to kick the ball. I joined a traveling soccer team. When I turned 12, I was fluent in Italian. Yet it was time for a new adventure: Miami. In Florida, basketball replaced soccer as my favorite sport.
Starting in New York and moving to Philadelphia, Long Island, Italy, Miami and ultimately returning to New York in Tenth Grade was a circle of lessons: some learned successfully and some still to be learned. Through all those addresses and area codes, my stepfathers' number one priority was responsibility to family: food on our table, shirts on our backs, and a roof over our heads. Responsibility was the rule of his life. I took his example to the basketball courts of Miami and back to New York when I was 16. For years, I translated his model of responsibility largely to sports and saw my commitment to any team–soccer or basketball–as an act of responsibility. Anything less was treason. Eventually I saw society as a web strewn together by successes and failures that are tied to responsibility. Travelling sensitized me to see the persistence of problems such as a lack of universal health care or lack of clean water in some African nations as examples of global irresponsibility.
My sense of responsibility inspires my career choice. I love sports and dreamed of becoming an NBA star for years. Now I seek a career in sports management to take responsibility for issues related to my passion–sports. I dream of launching a campaign to promote the sale of healthy foods at sporting events. Unhealthy fast foods that would make Michelle Obama cringe are the norm at the games I love to attend. It is quite a mismatch:  athletes whose jobs are to keep their bodies in supreme condition playing before fans who are eating their ways to heart attacks. And what about the financial health of those heroes on the courts and fields? Is it responsible for athletes to make news for graduating to poverty after their years of heroic status on the fields and courts?  My career in sports management would address those questions. Ambitious? Yes and I have the model of my stepfather to thank for setting my goals high. I also thank my biological father as well. His negatives provided the lens for me to value the positives of my stepfather. Without my biological father, I may have considered the responsibility of my stepfather as the mere norm–not something that requires sacrifice. My father's shortcomings contrasted with my stepfather's successes, shedding light on the interconnected ideas of people taking care of the people, whether it is one or a million.
Evan Mabry is a freshman at Indiana University and a 2013 graduate of The Dwight School.
by Chan Williams
His eyes frightened me. I was six and I knew something horrifying would happen, but I did not know what. All I saw was the anger in his eyes over a joke that had sent my friends rolling in laughter on the carpet of our Kindergarten class. At this moment, the laughter was gone.
Dad screamed at me. His anger was not over the actual joke. His outrage was tied to the clarity of my expression and word choice. I can't even remember the joke itself. Yet I will never forget my father's reaction over something that was a hit with my classmates. Dad, as always, was the toughest audience.
My father's approach to parenting demands that I should be nothing less than perfect. He is intimidating. However, I have grown to appreciate his vision, ambition and his impact on my success as a student and an athlete. His ultimate faith in my abilities expresses itself harshly at times, but I always find myself trying to be a stronger person after his critiques and proud whenever I win his praise. I also know the roots of his high standards are tied to the poverty of his childhood which, at 14, would force him to steal food from a store so his family could eat. He would grow into a successful businessman who vows that the pain of the poverty in his past would never confront me or anyone else in our family.
My parents divorced when I was one year old and I moved with my mother from Scottsdale, Arizona to Washington DC, while my dad was in Chicago working in finance. He visited me every weekend, but not for father-son bonding time. He wanted to make sure that he was on top of my education. The only thing that took my dad away from an important business meeting was something related to my grades, school work or extracurricular activities. His mindset blended into mine so much that I stopped arguing with him. I began to care about my education and future as much as he did.
I am one of the strongest math students in my grade and I can't separate my passion for math from my dad always pushing me to excel in the subject. For example, I remember spending four hours with him in a small breakfast café learning how to multiply before going to my friend's birthday party.
My father does not like excuses, which compels me to push myself in the classroom and on the field. During my second year on varsity lacrosse, we were practicing fast break situations. While I was standing near the goal, my teammate fired a misplaced shot that hit me in the shin. I had trouble walking on my leg the moment I stood up, and our athletic trainer put me in crutches and sent me to the emergency room. It was painful to walk for a week, but I still played in our game the next day.  When I was 14, my father noticed my tenacity and began to involve me in business decisions. At first, he merely shared the details of his deals. Eventually we were taking international trips together for business purposes. By then, he had an interest in South African television. So I travelled with him to Johannesburg and our connection strengthened.
A couple of years ago, I decided that I wanted to live with the dad who was becoming my friend. In my head, it seemed as if it would be a smooth transition. Other family members cautioned me that it would be tough. I ignored the warnings and moved to Chicago in my junior year. Shortly I saw the same dad who did not see a joke for what it was when I was a six year old. He scrutinized every move from changing my sheets every week as opposed to every two weeks to the methods used when studying for a test. After six months, I returned to Washington.
I've learned to appreciate the fundamental differences between my dad and me. They partially grow out of our different upbringings. He has groomed me to be a leader, while no one mentored him. He was forced to groom himself. He believes it makes his life easier if he approaches every situation in the same manner. So he tries to take care of the small and large problems with the same intensity. As of right now, I evaluate every situation differently, and react in a way that is particular to a situation. However, I have internalized the reality that talent, athletic or intellectual, must accompany hard work and tenacity, whether that means staying up late to finally comprehend that last math concept or staying after practice to discuss the game plan with a coach.
Chan Williams will attend Williams College in September, following a Gap Year. He is a 2012 graduate of Georgetown Day School in Washington DC.